8 WEEK LIVE ONLINE PROGRAM – CHANGES TO LAST A LIFETIME

Can't seem to lose weight by dieting? It's not your fault! Guilt and restraint don't work. That's why this program is different: it's a holistic approach to long-term wellness and a blueprint to teach you how to make simple and lasting changes (while having fun in the process)!
Here's what you can expect after just 8 weeks in the Love Your Body program
A deeper understanding of how your thoughts & feelings work
and how to not be controlled by them anymore 🙂
Less cravings for sugar & other unhealthy foods
No more bloating, constipation & other stomach discomforts
Freedom from anxiety, depression & binge-eating
(But not in the way you might expect!)
Improved sleep & a general sense of well-being & lightness
Being able to fit into your sexy clothes
 (Yes! You WILL lose weight!)
A strong foundation for present & future health
A holistic health education that will last you a lifetime
More energy, joy & motivation for life
Reduced hormone-related mood swings, pains & belly fat
The Fall 2023 Love Your Body Program
Are you ready to make an impactful and permanent change? Have you tried every possible weight-loss program with disappointing results? Did you spend money on diets you couldn't actually stick to? Don't worry. I understand. You're not alone!
My 8 week online program is designed to help you build a foundation for a healthy lifestyle through daily support and accountability. You will naturally start to eat healthier as a result of the lessons. The results? Sustainable weight-loss and positive changes to last you a lifetime.
A Holistic Approach to Weight Loss
Tired of dieting or buying expensive supplements that promise to burn fat? Low on energy and motivation, and tend to overeat when stressed? Wondering if you'll ever feel comfortable in your body again? I hear you! Feeling healthy shouldn't be painful – it should be FUN.
My Love Your Body program is uniquely designed so you won't have to focus on your weight. As you learn to implement (and actually take action on) healthy habits, the excess fat will start to come off naturally.
The psychology behind Love Your Body is a big part of the program. NO willpower is required and I will NOT be imposing any restrictions on you in the program. You will naturally start (and want!) to eat healthier as a result of these lessons.
"Magda's Love Your Body program was an amazing way to kick start my journey to better health and self-love!
It changed the way I view and think of wellness and by not focusing so much on weight loss, it helped me learn how to make healthier choices and drop a few sizes in the process. I am so grateful and can't wait to continue on with the tools and knowledge I got from this awesome program! I would highly recommend!"
Rebeca A, Program Coordinator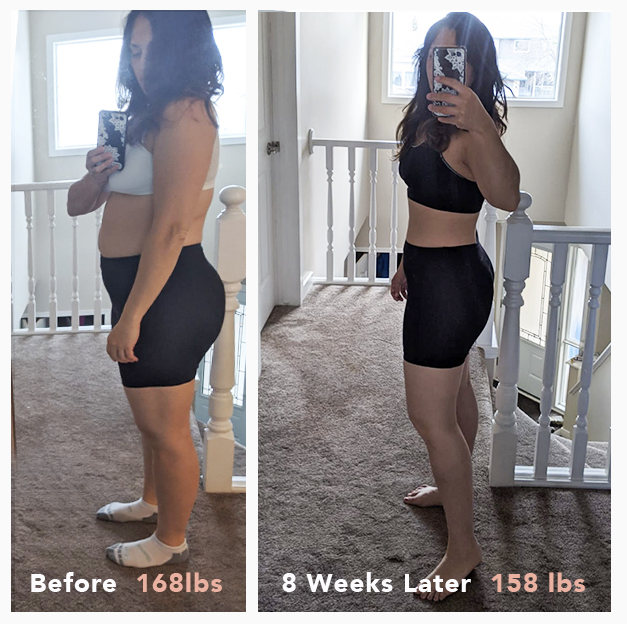 Everything begins with the human mind. By gaining a deeper understanding of your impulses, needs and patterns, you'll be able to better manage stress as well as emotional eating. You won't have to control what you think or feel. Simply knowing and acknowledging how your mind works will naturally bring you a sense of freedom and loosen the grip that emotional eating, anxiety and depression may have on you.
My Love Your Body teachings include some of the following topics:
Back-to-basics wellness
including sleep, hydration, and exercise
Nutrition & key supplements
for optimal wellness and weight-loss 
Natural hormone balancing
(this applies to both men and women)
Gut health
for optimal digestion and metabolism
Detox & craving reduction
including sugar and other hard to kick habits
Healthy shopping lists
and how to make and maintain them
Every program participant gets:
A weekly 1.5 hour live zoom session with instruction and plenty of opportunities to share and ask questions
Regular support via WhatsApp and Facebook Groups where I will be sharing ongoing tips and hacks, reminding you to stay on track, and answering any questions you may have. 
Handouts after each session as well as recipes, self-care tips, videos and other resources
Healthy meal plan for 3 meals a day plus snacks
An accountability buddy to ensure you get the results you were expecting
SPECIAL OFFER!
Receive a FREE hotel stay in Cancun, Thailand or Bali upon program completion! 
Claim Your Fall 2023 Program Spot Now!
Lasting transformation is possible! 
The Love Your Body program has really changed my life. I've learned so much on health and wellness, more than I could ever have expected. I'm slowly but surely losing weight and gaining energy. Magda is an excellent instructor, always personable, always keen to know how you are doing. I've broken old bad habits and formed many healthy new ones. Thank you, Magda, for all you do!
Tyzen A, Field Operations Supervisor
Taking part in Magdalena's "Love Your Body" program left me constantly surprised at how many natural ways there are to improve my health. It was packed with knowledge about little daily habits that will boost my energy and make me feel more alive – including not only 100% natural things to eat or drink, but also gentle exercises and amazing breathing techniques.
Magda's genuine enthusiasm and incredible support for each member of the group convinced me that although each person is different and has some kind of "special needs", we're all able to become a better version of ourselves in surprisingly very little time!
Numbers don't lie. I am a diabetic and after just 5 weeks of your program my blood sugar is already within normal range. Before your course my blood sugar was 29 mml/L. Now it's down to 6.8 mml/L!
Thank you, Magda. I learned so much from you and applied what you taught us. You're the best therapist/nutritionist I've ever met. Very simple, motivating and encouraging to help me live a healthy lifestyle. You are well researched and you practice what you preach. Your methods and program really work! 
Adel G, University Professor
I really enjoyed the program. I decided to follow it to a "T" for best results. The recommended products were amazing. They improved my sleep, my recovery time,  and even helped to increase my kidney function by a few points!! I lost over 20 pounds too! The weight-loss was not immediate, but once it started to come off, I kept releasing weight. As I continue to follow the program and continue to lose weight, my goal is to get to 200 lbs. I went from 298 lbs to 278 lbs in just 8 weeks of the program! Imagine if I follow it for another 16 weeks!! Thank you, Magdalena!!
Luis C, Electrical engineer/ senior project manager
From the very first session I felt inspired and motivated! I was unable to attend the first live zoom call so I watched the replay and I really enjoyed it! It was very insightful and had me looking forward to the following week's session! Normally I'm a bit of a procrastinator but for some reason I was motivated to watch the replay right away! It was very well done and I got a lot out of it! By the end of the program I had lost 14.6 lbs and 6 inches off my waist!  My goal is to lose another 5-10 lbs and an extra 4 inches so I may watch the program over again, as I know it will keep me motivated and on track:)
Vilma C, Electrical engineer/ senior project manager
I took Magda's Love Your Body online workshop over the course of several weeks, and she provided a safe and positive setting for the group to give everyone the best chance at succeeding. Before the workshop, I would suffer some energy loss about every third week, but since using some of Magda's suggestions I have not had any energy loss in the past 5-6 weeks!
I'm still using Magda's suggestions and am happy with the results. I highly recommend Magda's workshop if you are looking to make changes to your diet, whether it is to lose weight, gain energy, improve sleep, or just lead a healthier lifestyle.
Thank you, Magda, for introducing me to the powerful liver cleanse herb in your program! Both my grandma and mother died of liver cancer at a fairly young age so I was praying for a remedy to prevent me from having the same fate. You are the one who gifted me the answer to a healthy liver! THANK YOU! I hope to live to 100!
In addition to finding hope and relief for my liver, the herb you suggested has really helped me with a lot of uncomfortable pre-menopausal symptoms.
Ever since I started drinking the herb you recommended, I have true mental clarity & alertness as well as a boost in energy. All this after just the first dose! I also have reduced inflammation, which means less body pain and less constipation. I have clearer, brighter eyes. Both my day and vision day & night vision have improved. My skin irritations & eczema have completely disappeared! I have a youthful glow and my hair and scalp are healthier, which is a plus!
Thank you again for your amazing and inspiring shares. I trust your advice and I appreciate how you assisted us all in the group with such care and attention.
I value your mission to help us work towards our new healthy habits. I know the things I have learned will not only help me now, but will help to prevent future diseases. Love Your Body was an investment in my health not just for the duration of the program, but for the rest of my life!
Irene J, Beauty Consultant
Magdalena's Love Your Body program is amazing and I'd recommend it to anyone looking to transition their current routine to a healthy lifestyle. She not only gives you tools to improve and love your body, but works on the reason as to WHY you are having setbacks. The difference between this and other programs out there is that it's a wholly holistic approach that works on the mind-body connection to create a lasting shift. This allows you to stay focussed on doing what's best for your overall health. If you're serious about making sure you live (and LOVE) your life to its fullest potential, then join the LYB program. Thank you so much, Magda!
Erika G.M, Personal Coach